About The Food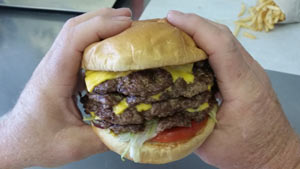 Hometown Burgers in Farmington makes our burgers fresh every day—we never use frozen patties. Our premium meats have a lower fat content. We're confident you'll think our fries are the bomb because we use special seasoning and offer large portions. We also make homemade shakes from real ice cream. While other restaurants pour it into a vat, we use the scoop by hand for each shake and that makes our shakes awesome!
We offer daily specials Monday through Friday so stop in and get a taste of our great deals. We've won community awards, and were voted Best Burgers in Farmington in 2005, with Best Fries in Farmington following later. We invite you to support your local businesses. We love our customers!
Community Items/ Awards
Voted Best Burgers in Farmington 2005
Voted Best Fries in Farmington
Support your local businesses!
We love our customers!